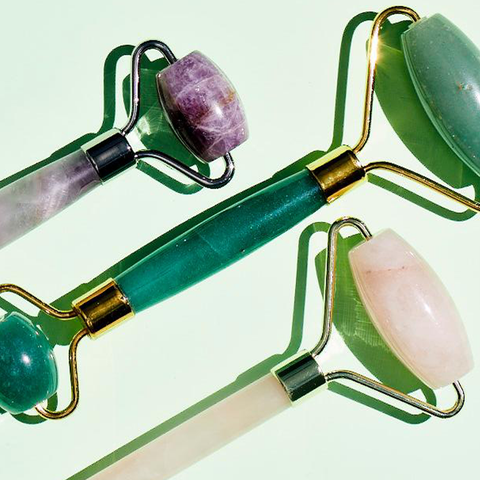 Jeffrey Westbrook/Studio D. Stylist: Alma Melendez
Depending on who you ask, jade rollers are the be-all and end-all of skincare tools… or they're just a pretty decoration for your vanity. So what's the truth here? We turned to Sandra Lanshin Chiu, founder of the holistic healing studio Lanshin in Brooklyn and expert in Chinese medicine dermatology, and Melissa Kanchanapoomi Levin, M.D., dermatologist and founder of Entière Dermatology in NYC to answer the perennial question, "Should I buy this or will I be mad I wasted my money?" Keep on scrolling to find out what they had to say.
Do jade rollers actually work?
Wellll, that really depends on what your goal is here. Are jade rollers the magical cure-all for your acne breakouts and wrinkles, like some make it out to be? Sorry to disappoint, but no. Jade rolling can, however, reduce puffiness temporarily by increasing lymphatic drainage, according to both Chiu and Levin. As far as improving product penetration, that's where they differ. While Chiu says it can help, Levin says there's really no science to back that up. All that's to say, if you don't expect any miracles and you like the way it smooths on your products, then yeah, jade rolling might work for you.
Is a rose quartz or jade roller better?
~Technically~ jade rollers are made with (you guessed it) jade stones, but you've likely seen other gemstones used in face rollers, like rose quartz. So can you just pick yours out based on the color you like or will it make a difference? According to Chiu, the stone doesn't really matter. "Variations in the type of stone won't effect results," she says. "The key is good technique plus consistency."
Should you use a jade roller after moisturizer?
Though it might not work to push the products any deeper into your skin, jade rolling 100 percent feels better when performed after moisturizing. To get the skin properly hydrated beforehand, Chiu suggests first spraying a hydrating mist or applying an alcohol-free toner and gently patting it into the skin. Then, smooth on a hydrating serum, followed by your hydrating mist again. To lock it all in, finish with a few drops of a natural face oil, and you're ready to rock and roll (and, no, I'm not even a little bit sorry for that pun).
How do you use a jade roller?
Let me guess—you got your jade roller, did a couple haphazard strokes across your face, and called it good, right? While that might feel good and everything, there is a proper method and reason for jade rolling, so let's take sec to go over that first. As Chiu describes it, "Jade rolling is a simple technique derived from ancient Chinese Medicine using a roller to apply pressure to the skin and underlying tissue, creating movement beneath the surface." Jade rolling is kinda like foam-rolling your face, though it definitely isn't as painful as working through tight muscles on your body. In fact, if it hurts, you're def doing it wrong.
So what is the right way to use a jade roller? Hint: not like a paint roller on a wall. Instead of pushing the tool back and forth and in every which way, Chiu says to work in specific directions depending on what you're trying to target. After hydrating your skin to prep, follow her steps for face rolling, below:
Neck: Start with the neck to open channels of circulation. Place the roller in the back at the top of your neck, and roll downwards along the sides. Then, move to the front and roll from the jawline down to the collarbone.
Cheeks: Place the roller in the middle of your face, and push it outward toward the sides.
Forehead: Roll from your hairline down to your eyebrow. Then, take the roller between your brows and pull it horizontally towards your temple and repeat on the other brow.
Eyes: Gently roll horizontally from the outer corner of your eye toward the inner corner and repeat on the other eye.
How often should you use a jade roller?
It's important to note that the results won't last forever, so to see any effects, you'll have to keep it up. Chiu suggests using your jade roller on a daily basis and whenever you do your skincare routine.
Should I keep my face roller in the fridge?
As nice as it might feel to glide ice cold stones across your puffy face, Chiu says they generally avoid using cooler temps to treat the body in Chinese medicine. "Although a cold roller can feel nice, cold contracts circulation and the actual purpose of rolling is to increase circulation," Chiu says. "I encourage everyone to focus on good rolling technique, rather than on the gratifying feel of a cold tool."
One exception: Both Chiu and Levin say that if you're experiencing allergies or a sunburn, a cool jade roller can help soothe the skin. Chiu suggests first washing the tool with warm, soapy water to get rid of any product that could exacerbate the skin reaction, then gently roll over the affected area with a cold roller.
Final Thoughts
Jade rolling is a good first step for anyone interested in natural skincare, but if you're looking for a tool and technique for a more sculpted look, Chiu suggests Gua Sha, a similar but different technique used in Chinese medicine, instead.
In other words, jade rollers aren't the magic wands they're sometimes touted to be. Will they overhaul your skin? That's more myth than truth, but they feel really freakin' good and make an otherwise mundane skincare routine much more fun—and that, my friends, is fact.