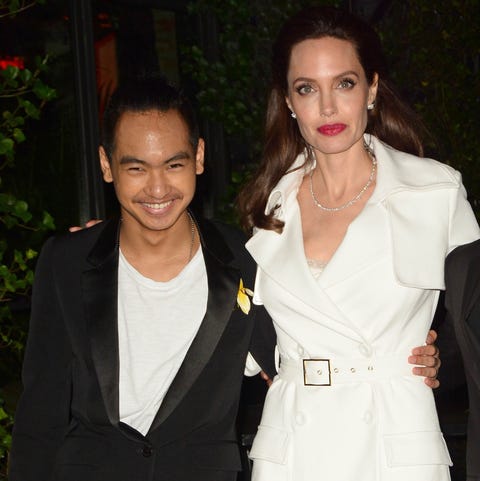 Patricia Schlein/Star MaxGetty Images
Angelina Jolie's son, Maddox Jolie-Pitt, is officially a college freshman!
While dropping Maddox off at school, Angelina got very emotional and "ugly cried" when it was time to leave him. Aww!!
---
Angelina Jolie is a sad momma now. Allow me to explain why: Her eldest adopted son, Maddox Jolie-Pitt, has officially entered college. Which is amazing, of course! But Maddox, sadly, is attending college all the way overseas. Earlier this month, People revealed that Maddox is attending Yonsei University in South Korea, and will be studying biochemistry like the smart cookie that he is! Of course, this is always a super emotional moment for parents, and Angelina Jolie is no exception.
To see her son off, Angelina dropped Maddox off to his dorm at the college last week. Naturally, the whole thing caught a lot of attention (she can't help who she is!), and people snapped pics of her and spending their last few moments together. Now, according to Angelina, these last few moments were hella tough for her to handle.
While at this weekend's D23 Expo, Angelina opened up about what it was like for her to drop Maddox off at college. When asked if there were tears during his farewell, Angelina said she did a Mom Approved™ "embarrass your children ugly cry" when it was time to leave Maddox.
Angelina also added that she couldn't help but dramatically turn around to wave goodbye to him multiple times before leaving the school. "The amount of times I turned and waved. I do know it was the one moment in my life I think I turned around six times before the airport just… and he sweetly stayed and kept waving, knowing that I was going to keep turning around. You could feel he knew he couldn't leave." Awww, how sweet is that!
Our Angelina might be taking the separation kinda hard, but she's definitely ready to see Maddox again at the drop of a hat. "It's nice to know how much he knows he's loved," Jolie said. "And but yeah, I miss him, I miss him. Or I'll just get out there. It's not like I haven't set my plane tickets."