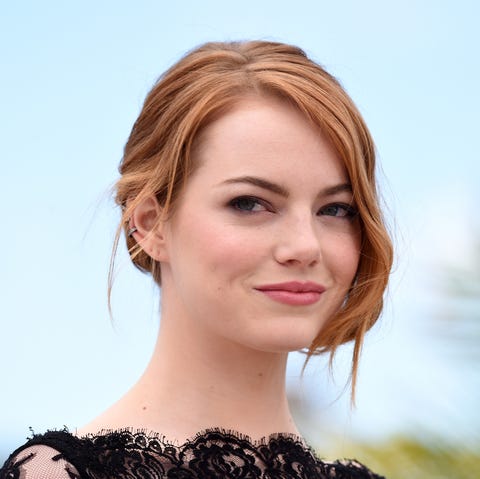 Ben A. PruchnieGetty Images
Disney just released the first picture of Emma Stone as Cruella de Vil.
Emma will play the lead in the new live-action prequel.
---
Another day, another Disney live-action movie to freak out about. This time, instead of panicking about how creepy Timon and Pumbaa look in The Lion King remake, we need to talk about how freaking fabulous Emma Stone looks as the deranged Cruella de Vil.
This weekend, at the D23 Expo in California, Disney released the first photo of Emma in the Cruella live-action movie. While I'm extremely worried about what her character is going to do with the three Dalmatian puppers she has in her possession (if this movie is anything like the original, it won't be pleasant), I can't stop thinking about how badass she looks. I mean, the pose in the middle of a bunch of rubble looks like the most ridiculous America's Next Top Model challenge, but she's working it.
And behind Emma, you can see her two henchmen played by actors Paul Walter Hauser (I, Tonya) and Joel Fry (Game of Thrones and Yesterday).
Unlike the 101 Dalmatians movies we already know and love, Cruella is going to be a prequel set in the 1970s and be centered around a "young, punk-ish" Cruella, who later becomes obsessed with stealing dogs to make fur coats. At the D23 Expo, Emma added that the movie will be set in London and during the height of the punk rock era.
The movie doesn't come out until May 28, 2021, but Disney is churning out so much new content lately—Lizzie Effing McGuire!!!—that the wait won't be completely unbearable. And in the meantime, we can all experiment with perfecting Cruella's split-dye hairstyle.